CD
"Short Tracks" CD Wirripang Wirr 113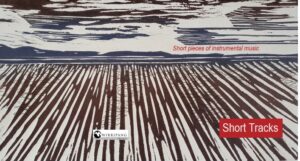 Short pieces of instrumental music
Diana Blom, creator
In repertoire for one or two instruments, there are many works which are very short – miniatures, perhaps – yet deserve to be heard and enjoyed. The CD, Short Tracks, has assembled 36 tracks of short pieces from the 20th-21st centuries, most under 4 minutes in length, most, but not all, stand-alone works. The composers and performers are from Australia, UK, Italy, USA, Israel and musical styles range from tonal to improvisatory exploration.
Among the tracks included on this CD are:
[2] Diana Blom Cat's Play (Antonietta Loffredo, toy piano, castanet, horn, bell)
[26] Diana Blom Through Shadows (Antonietta Loffredo, toy piano)
[33] Stacey Barelos Starfish (Antonietta Loffredo, toy piano)

https://www.australiancomposers.com.au
"The Toy Piano Takes the Stage" CD Da Vinci Classics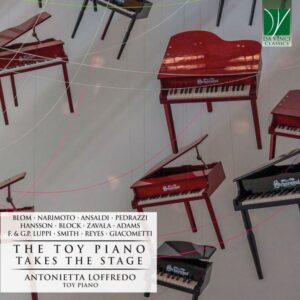 "After having joined Cage's new musical world
of sounds, the toy piano started increasingly to
acquire the status of an instrument in its own right.
Nowadays networks of performers and composers across the Western and Asian worlds explore the sonorities and possibilities of toy piano, continuing
the path started by Cage.[…]". The pieces included
in this CD highlight the ongoing and growing interest
in this instrument. Most of them have been premiered at the Music as Play Festival – The toy piano takes the stage, held in Como (Italy) in 2019. Works by Diana Blom, Antonio Giacometti, Paul Smith have been especially commissioned for this recording.
[1] Diana Blom Japanese Knitting For toy piano & three knitting needles
[2] Rica Narimoto Lines
[3] Gaston Polle Ansaldi Quasi rituale For toy piano e toy percussion
[4] Marco Pedrazzi Tic-Tac-Toy
[5] Mats O Hansson Oceans of Time
[6] J.M. Block Bâchage Prelude
[7] Paul Smith Constellations For toy piano, toy xylophone and wrist bells
[8] Mercedes Zavala Toy Dance
[9] Fabio Luppi Three Pictures for Toy Piano
[10] Chris Adams Diversions
[11] Alicia S. Reyes Direttore di latta For toy piano and tin robot drummer
[12] Gian Paolo Luppi Toy, toy, toy!
[13] Antonio Giacometti Chôrinho sambado para o Schroeder For toy piano and toy percussion
"New Music for Multiple Keyboards" CD Wirripang Wirr 089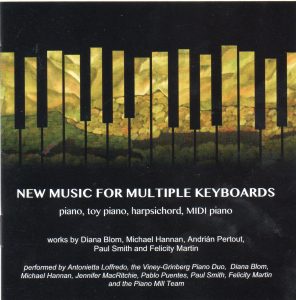 Diana Blom and Michael Hannan – the curators and producers of this double CD of new music for multiple keyboards – felt they would like to create an album of new works that fitted the general principle of two or more keyboardists playing on one or more keyboard instruments. The instrumentation is dominated by pianos and toy pianos (and combinations thereof), but there is one work for multi-tracked harpsichords and another for multi-tracked MIDI electric pianos.
Among the tracks included on this double CD are:
Disc one
[5] Musica Battuta: Double Toy Piano Étude for One Soloist, no. 438 – Andrián Pertout (Antonietta Loffredo)
[11] Drawing Firewheels for piano & toy piano, one player – Diana Blom (Antonietta Loffredo)
Disc two
[2] Holding Masks for piano & toy piano, two players – Paul Smith (Antonietta Loffredo & Paul Smith)
[5-6-7] Riff Madness III for two toy grand pianos – Michael Hannan (Antonietta Loffredo & Michael Hannan)
"Celebrating Twenty Years" Melbourne Composers' League CD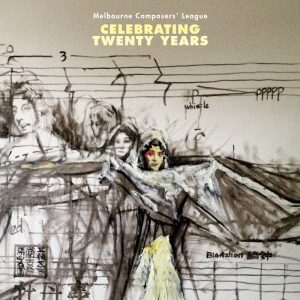 'Celebrating Twenty Years' is a collection of contemporary classical works by twentythree Australian composers based in both Melbourne and Sydney […].
This MCL triple compact disc celebrates twenty years since the founding of the composer organisation – a collegial group of artists committed to championing the aspirations of the individual within the collective in an effort to reflect the eclecticism evident in contemporary-classical music composition in Australia today.
Among the tracks included on this MCL triple CD is "Earth Tones" by Diana Blom [Antonietta Loffredo, toy piano].
"Antartica" CD Wirripang Wirr 059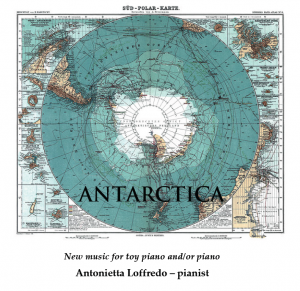 New music for toy piano and/or piano played by Antonietta Loffredo.
Another exciting University of Western Sydney project of newly composed works inspired by the landscapes and atmospheres of one of the most fascinating continents on the planet. Antarctica is considered an inhospitable continent but it has fascinated and inspired not only travellers, scientists, researchers but musicians and writers. This program of eleven composers from five countries draws on the sounds of the piano, and the clear, distinctive sound of two toy pianos, into their works. This music been performed by Antonietta in Australia and Italy.
Antarctica volume of the scores also available online.
[1] Sara Carvalho (Portugal) Inside Silence
[2] Diana Blom (Australia) The Blue Ice Cave
[3] Mercedes Zavala (Spain) Implacable Ice
[4] Francesco Schweizer (Italy) "A" As Antarctica
[5] Stefano Procaccioli (Italy) Percorso A
[6] Chris Adams (New Zealand) Erebus
[7] Nathan Wilson (Australia) HeartBroken Star In The Dream Winds Of Endless Night
[8] Paolo Longo (Italy) Isola di memorie
[9] Gian Gaolo Luppi (Italy) Antarctica Suite
[10] Antonio Giacometti (Italy) Icewhite (penguin's steps in the eternity of nothing)
[11] Paul Smith (Australia) Iceberg Variations
"Shadows and Silhouettes" CD Wirripang Wirr 047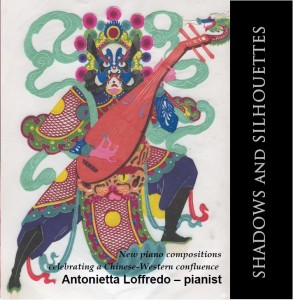 New piano compositions celebrating a Chinese-Western confluence played by Antonietta Loffredo.
A University of Western Sydney project this interesting CD is the third by Antoinetta in a collaboration with the composers who have been encouraged to write new pieces for this project.
It consists of piano pieces which draw on such influences as Chinese bird song; stylistic characteristics of Chinese instruments on an Australian folk tune; impressions of Shanghai; a phrase from Yijing (l-ching); teracotta figures of a travelling orchestra on horseback; a Chinese nursery rhyme; the concept of Qi; a Hong Kong market early in the morning; a poem by Chinese poet Po Chu (772-846); the musics of the three cultures of Malaysia; and from a Chinese perspective, winter days and a funeral in Australia.
[1] Diana Blom The Travelling Chinese Orchestra
[2] Michael Hanan Birds Calling in Cloud Valley
[3] Valerie Ross Regaslendro
[4] Ann Boyd Market Gardens and Musicians
[5] – [7] Massimo Priori A flower and not a flower (P'u – Hua Fei Hua) – Tre contrappunti
[8] Julian Yu Three Variations on Waltzing Matilda
[9] Phoon Yew Tien Winter days
[10] Phoon Yew Tien A Funeral
[11] Bruce Crossman Qi Colour from Hidden Resonances
[12] Francesco Schweizer Lakes resting one on the other
[13] Caroline Szeto Moon Rhyme
[14] John Peterson Impressions of Shanghai
''CHILDHOOD IN MUSIC'' CD Wirripang Wirr 042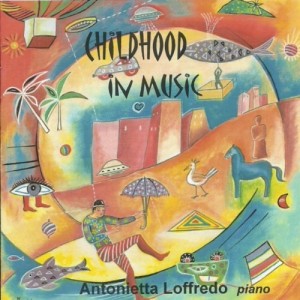 "Piano music by contemporary Australian and Italian composers played by Antonietta Loffredo.
A University of Western Sydney project this interesting CD is the second by Antoinetta in a collaboration with the composers who have been encouraged to write new pieces inspired by chilhood, simplified only in its instrumental components without linguistic or aesthetic compromises to enhance the different poetics that mark the contemporary art music panorama.
Scores by the Wirripang composers- Sofia Marita, Ji Yun Lee, Michael Atherton and Diana Blom are available online."
http://www.australiancomposers.com.au/
[1] Sofia Marita Swinging for Ari
[2] – [3] Paul Smith Kawaii Suite – Ponyo, Mokona
[4] Holly Harrison A' is for Alice
[5] Ji Yun Lee Colour Variation I
[6] Michael Atherton Nanna told me so
[7] – [13] Massimo Priori Sette piccoli pezzi
[14] Francesco Schweizer Music for a snowy day
[15] Stefano Procaccioli Fogli dall'album – baluginii e distorsioni per pianoforte solo
[16] Diana Blom and Adrian Barr The Cat's Meow
GIOCHI E RIFLESSI DAL '900
"
L'INFANZIA IN MUSICA
" CD Phoenix PH 08137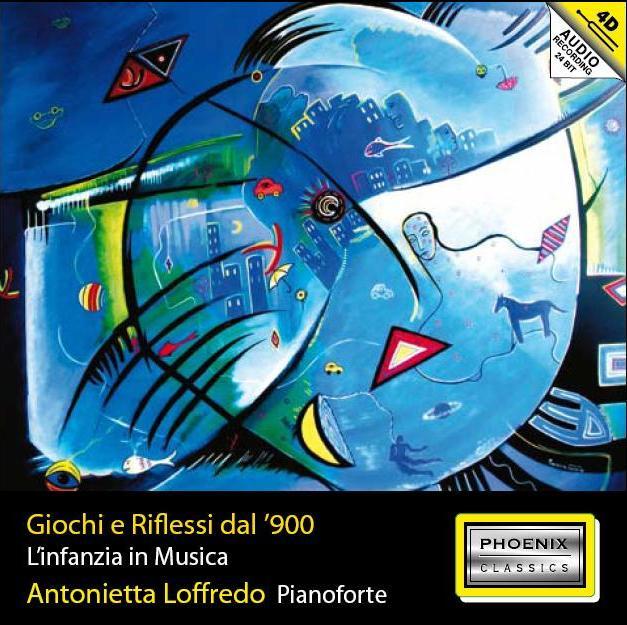 Alcuni anni fa iniziai una ricerca di brani adatti ai primi anni di studio del pianoforte, nel tentativo di trasmettere agli alunni il mio interesse per il repertorio contemporaneo. Ovviamente, per condividere non solo l'interesse personale, ma anche il piacere e il divertimento che scaturivano da un repertorio troppo spesso giudicato complesso e destinato inevitabilmente a un pubblico "preparato"… Erano brani scelti per i primi anni di studio, perché ritenevo importante far conoscere fin da subito linguaggi e ambiti estetici molto diversi, così che gli alunni potessero sperimentare tutte le possibilità di estrarre un significato dalla propria esperienza musicale. I brani proposti in questo CD vogliono essere soltanto un esempio di quanto sia interessante ed eclettico il panorama che ha connotato la scrittura pianistica degli ultimi quarant'anni: non necessariamente musica da far suonare ai bambini, ma tante e innovative strade musicali che vedono nell'infanzia un simbolo, il nuovo da cui gettare un ponte verso il futuro.
© 2008 Antonietta Loffredo
[ 1] – [14]

Sophia Gubaidulina

(1931) Musical Toys
[15] – [21]

Helmut Lachenmann

(1935) Ein Kinderspiel
[22] – [23]

György Kurtág

(1926) Játékok I – Perpetuum mobile (Objet trouvé), Hommage à Tschaikovsky
[24] – [32]

Mercedes Zavala

(1963) Mirada*
[33] – [36]

Stefano Procaccioli

(1960) Quattro Grès per T.*
[37] – [46]

Paolo Longo

(1967) Jeux et Berceuses*
[47] – [51]

Bent Lorentzen

(1935) Five easy piano pieces
[52] – [53]

Toru Takenitsu

(1930 -1996) Piano pieces for Children
* Prima registrazione mondiale